Those who have read my most recent posts will understand why I still find myself reflecting on life in the context of my daughter Holly,  who in the Lord God's wisdom is still here in this life with us, although physically it appears her time here on earth is short.  The Lord is sovereign and all things are, in ways that are beyond our understanding, in the grasp of His fatherly hand.  When it is good for all involved, who love Him, He will receive her spirit into His presence to wait the resurrection of her, body, renewed with no more sickness.  While we wait, if we are able to see it, the Lord gives us many wonderful things to hold onto, testifying of His goodness.  I shared one of these in the blog posting titled,  I Believe – God's Goodness Shining in Sadness. This morning God has given me another one of these priceless moments.
I was listening to the story of Robin Hood in an audio book called Scarlet, written by Stephen R. Lawhead, read by Adam Verner, when Friar Tuck said the following about holly, referring to the holly bush,
It is a most potent symbol…  Prickly leaves remind us of the thorns on our dear lamb of God, as He suffered with silent fortitude, and the red berries remind of the drops of healing blood He shed for us.  The tree remains green all the year round and the leaves never die, which shows us the way of eternal life for those that love the Saviour.
This touched me, as it is a picture of our daughter, Holly, today.  She is not able to speak much but, when Holly has been able to speak, her words have often been a gentle breath of acceptance of what the Lord has for her and a concern for those around, like the red berries of the holly bush described above.  God has promised, in the Bible, that our Holly will never die, like the green leaves of the holly bush described above.  When she has been able, Holly has testified that this is true because of the love of her Saviour, Jesus Christ, the dear lamb of God who suffered with silent fortitude on the cross for all of those who love Him.  Saving Faith lets us see God's words of truth pictured in wonderful ways in His creation.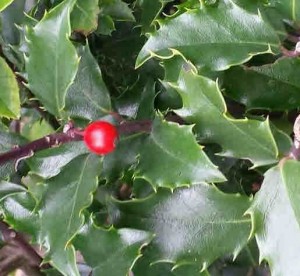 We are blessed to have a holly bush that has been in our garden for the past 20 years. I looked at it this morning ,with it shiny green leaves, and found that God has graciously allowed it to have one red berry.
Lord God, our Father, we thank you for loving our Holly.   Jesus Christ we thank you for taking sin's punishment in our Holly's place.  Holy Spirit we thank you for working these wonders in Holly's heart.  Holly we thank you for loving the Lord God, Father, Son and Holy Spirit.